If this is your first time visiting BearCountry, welcome! I'm glad you stopped by! For the first 25 days of December I'm going to be hosting a fun and easy carnival about Christmas ornaments. Once a day I will post a MckLinky for everyone to share a photo of an ornament and the story behind it. Want to know more? I suggest you click
here
to read the official introduction to the carnival or leave your questions in the comment section. There are no right or wrong ornaments to share - homemade or store bought. If it's special to you, we want to hear about it!
I chose this angel ornament for the first day because it is one of my most precious ones. It was purchased in honor of a little boy I won't meet this side of Heaven, but has impacted my family none the less. Noah is celebrating his third Christmas as an angel in Heaven and I bet he and my dad are best buds by now.
Thanks to my friend
Susan,
who understands code way better than I do, there's even a handy dandy 'grab the code' box if you'd like to add the button to your blog.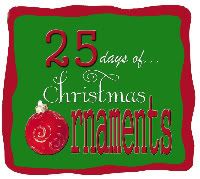 One thing to note as your planning out which ornaments to feature on which days, I plan to feature homemade ornaments the second week in December. My kids make ornaments each year and I'm hoping that we'll be able to share some fun ornament projects with each other.