A couple of years ago I hosted
a blog carnival
where we posted an ornament and the story behind it during the 25 days leading up to Christmas. Since I barely touched the surface of my ornament collection with those 25 ornaments I decided to share another 25 this year. If you'd join me keep in mind that the third week I will share homemade ornaments so you might want to hold off on posting those until then.
If you'd like to include a button with your post - here you go: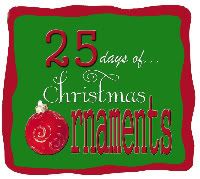 My ornament for today is the oldest on our tree. It was passed down from my grandma to me when Sam was a baby. It belonged to his great
great
grandfather. It's amazing it's lasted this long considering it's a glass ball and has to be almost 100 years old! We have a few antique ornaments like this - hopefully they will survive to pass on to another generation!
You'll have to leave a link in the comments to your post until I can gain access to my linky tools account.