Welcome to the third installment of Alphabitty Moments!
If this is your first time visiting, you can learn more about this carnival by clicking
here
. Entries are welcome throughout the week, but I will always post the next letter on Thursdays.
It's easy to participate. Each week pick something that starts with the letter of the week. Like this: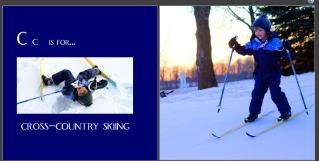 Write about why you chose that word to remind you of a special moment in your life and then add your name to the Mr. Linky below.
This winter was Sam's first time on skis. He was timid at first, but then he wanted to go up and down the hills over and over again. Our yard has just enough of an incline that he can go up and down by himself. He wears a size 30 shoe this year and a size 40 ski. His gear won't always be so small but thankfully we have a
few more pair
s to choose from in the years to come.
How many of you thought I would use Julia's curls for my letter C? I considered it and it would be appropriate since her hair doesn't stay the same for very long, but I opted for Cuddles this week. I hope the day doesn't come, but if she ever thinks she's too old for a cuddle, we'll have these cute pictures of her with her daddy and her grandpa to treasure.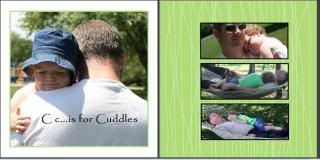 I'm pretty sure that you can click on the images to see them larger....
Don't feel like you HAVE to do the scrapbook pages in order to participate. It's perfectly OK to simply add pictures to your post.