Welcome to the second installment of
Alphabitty Moments
!
If you are joining us for the first time you can catch up on all the great A entries by clicking
here
.
I opted to create two layouts this week to be specific for each of my kids. (I use
Blurb.com's
Booksmart software.) Feel free to simply post the picture and the letter of the week if you prefer or use your own scrapbooking software.
Julia painted this bear at school a couple of weeks ago by dripping paint on the paper and then folding it in half. All the teachers came over to ooh and aah over it because of how perfect it turned out. The crazy part is that when she dripped the paint on we had know idea that the idea was to fold the paper and spread the paint out. Very random drips of paint by an almost 2 1/2 year old turned into two perfect eyes, a nose, a smile, and a bow on top. Woah!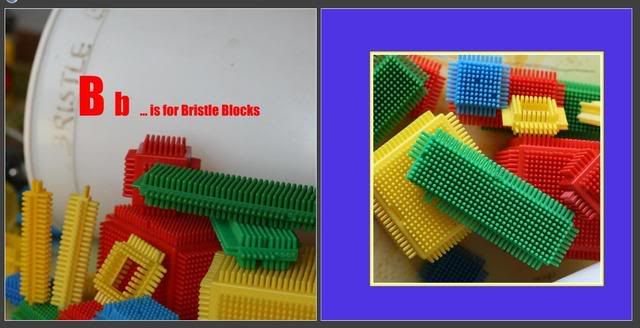 My sisters will recognize these bristle blocks as the same ones we played with as kids. They are OLD. See the white bucket behind the letters? That's the same ice cream bucket my mom stored our blocks in all these years. I was happy to be able to include it here since the sound of the bucket opening will always be part of the experience.
Sam likes to build ships (gun boats), bridges, ice cream factories, ice cream cones, and cars with these blocks. His imaginative play has exploded in the past few months - I wonder what he'll come up with next?!?!
Now it's your turn! What "B" moment would you like to preserve? Be sure to come back and leave a link to your blog so everyone can see. I put my posts up on Thursday, but feel free to add your link anytime throughout the week.